Isn't it nice to hear good news?
Despite a crazy week of swine flu hysteria and the president's first 100 days in office, there's actually some positive things happening in the world of money.
The Wall Street Journal reports that Debit-Card Use Overtakes Credit for Visa for the first-time ever. This is great news for responsible consumers. I've argued that you should use a debit card exclusively for your purchases, so it's nice to see this stat.
Check out this infograph.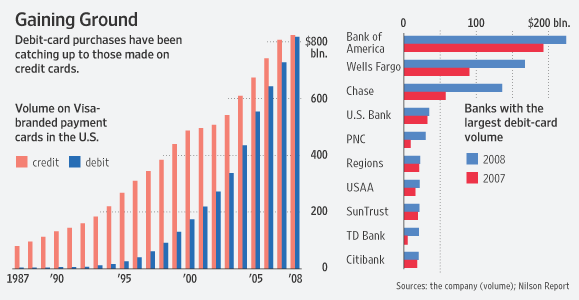 Amatuer Asset Allocator describes What Matters In Investing: diversification and expenses. He advocates using index funds and having assets in Large Cap U.S. stocks, Large Cap Foreign stocks and Intermediate Term U.S. Bond funds.
Over at the Mint blog, Steve Barth wants to know Is Your Bank Working For You or Against You? In it, he recaps the latest government bills, including the Credit Card Bill of Rights, and why banks may have taken our bailout money without giving us anything in return.
Speaking of Mint, the account aggregator launched a new feature this week — "Financial Fitness" — a 12-step program for taking actionable steps to getting in better financial shape. Aaron Patzer of Mint was kind enough to preview the service for me and a number of other bloggers.
Flexo at Consumerism Commentary has a great look at the new program. Mint was kind enough to offer up beta invites to readers of Automatic Finances — email Automatic-getfit@mint.com with your Mint.com email login to get set up.
Want to see your post highlighted in Weekend Linkage? Contact me to let me know about your newest content.