We didn't really cover Mint's acquisition by Intuit (makers of Quicken) for $170 million, but in the analysis of the deal, there's been some interesting takes — and how Yodlee, the account aggregator used in Automatic Finances, plays into it.
TechCrunch, which covers startups and the Silicon Valley scene, calls Mint Yodlee's YouTube. Meaning, Mint leveraged Yodlee's technology (as YouTube did with Adobe's Flash) to grow big and eventually sell.
Very early in Mint?s life they signed a sweet deal with Yodlee to provide all that back end technology. Mint focused on the front end user experience, and did a great job with marketing. People who have knowledge of the deal say total payments from Mint to Yodlee over the last couple of years are around $2 million/year. So Yodlee made $4ish million off of Mint.
Speaking of Yodlee and Mint, Sun at The Sun's Financial Diary says that Yodlee does a better job categorizing expenses. "I don?t know exactly how Mint processes the transactions, but it is just unacceptable to me that a popular financial product that is used by more than 1 million users to track their finance treats a credit card payment to Chase as spending on alcohol," says Sun.
There's new research out from the American Bankers Association, which says that more consumers prefer to bank online than any other way. According to a report in the LA Times, 25% of bankers say online banking is the best option, beating out branches and other choices.
Here's the whole chart: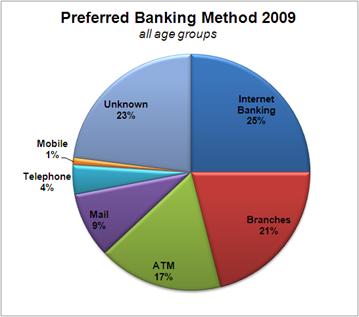 Finally this week, Wise Bread has Six Ways an iPhone Can Save You Money. Even though the monthly costs are higher than other cell phone plans, my iPhone literally is my connection to everything — anywhere. I can't imagine going back to the cellphones I used to use.
Want to see your post highlighted in Weekend Linkage? Contact me to let me know about your newest content. And always remember to subscribe to the latest content via email or RSS.