Long time readers will no doubt remember 10 Personal Finance Blogs You're Missing Out On, the post where I named some of my favorite lesser-known bloggers (no Get Rich Slowly's or The Simple Dollar's there).
But the great thing about the personal finance blogosphere is that there are a ton of voices — not just the big dogs or the up and comings. In fact, there are so many voices that it's almost impossible to keep up with the great ideas and stories constantly being posted online.
Thankfully, following the entire personal finance blogosphere is easier than you think.
While you may not get to literally read every post by every blogger, 3 sites provide us the tools to find the best content in the worlds of personal finance, investing and money management.
Here's how to follow the entire personal finance blogosphere.
Tip'd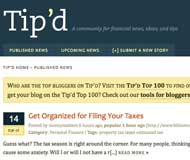 Tip'd, a "community for financial news, ideas, and tips", is a lot like Digg, where users submit stories in various topics (personal finance, stocks, entrepreneurship, economy, and more) and can "tip" (read: vote) for their favorites.
Stories that get more tips rise to "Published" status on the front page or appear in the "Hot in Upcoming" section on their way to the top.
For those interested in particular stocks, Tip'd offers a "social ticker" tracker, which aggregates the latest prices, tweets about the stock, bookmarks in del.icio.us, and of course, Tip'd stories. Here's a list of the top SocialTickers.
Tip'd has done a fair amount of outreach to bloggers, even listing the Top 100 who appear on the site. (We're not there, but working on it.)
My only complaint about Tip'd is that there tends to be a fair amount of submission and comment spam, but I know they work to clean that out as much as possible. And, given the nature of the site, if you follow only the most Tip'd news, you'll only see great material.
PFBlogs
PFBlogs.org, "the ad-free personal finance blogs aggregator", brings together the latest posts from every blog in its directory. Unlike Tip'd, individual stories don't need to be submitted for consideration. If a blogger is in the directory, their latest posts are automatically included in their feed.
The site, which is updated every 5 minutes, approves every blog before it is added to the directory, so you don't have to worry about spam sites. Certain blogs are "friends of pfblogs.org", meaning they've paid a fee to have a featured listing and appear as a premium listing.
I subscribe to the RSS feed, so that I can simply read the latest headlines and choose which stories to read from there.
PFBuzz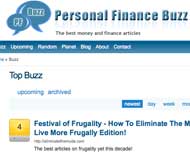 Personal Finance Buzz (PFBuzz) is similar to Tip'd in that it's a Digg-type site, but I find that the content here tends to highlight a number of up-and-coming bloggers.
The categories focus a bit more on personal finance principles, like debt, frugality and insurance, which is great for finding content in those areas.
PFBuzz does a good job at highlighting stories that I don't see in other places, so I enjoy checking it out on a regular basis.
My Google Reader Feed
In addition to these three sites, I follow a number of individual personal finance and money blogs using Google Reader. As part of this, I've opened up my "Money" folder for public reading online.
These are the blogs I read on a daily basis, and I hope by sharing them with you you'll find a site or two that you didn't know about.
Click here to see my public Google Reader folder on "Money."