The research earlier this year that nearly 7 out of 10 Americans have less than $1,000 in savings is scary.
It's legitimately frightening, as they have no place to turn to when unexpected expenses pop up (which always will).
While it's crucial that those who don't have savings begin to, there is some good news on the savings front.
According to new data from Fidelity Investments, the average 401(k) and IRA balances have reached a record high, reports Bloomberg.
The average 401(k) account balance stands at $97,700 as of June 30. That's a 9.6 percent gain from the $89,100 average of a year ago, and a big leap from the $73,300 average of five years ago. Average IRA totals, meanwhile, rose to $100,200 from $89,600 a year ago and $73,100 in 2012. For the 12 months ending June 30, market gains accounted for 72 percent of the rise in retirement account balances at Fidelity. Over that same period, the Standard & Poor's 500 had a total return of 17.9 percent.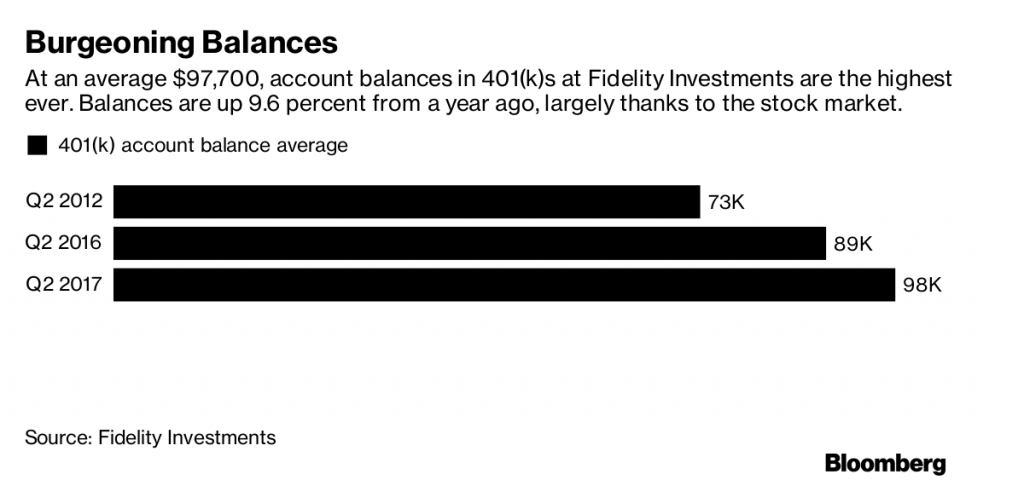 Obviously, the dramatic increase in the stock market since the presidential election has helped those balances incredibly.
But it's not just money in the market that's growing, according to the data — a lot of new money is being invested in those retirement accounts. Over the past year, Fidelity reports that 401(k) participants invested an average of $5,850, a 4 percent increase year-over-year and an all-time record high.
(Remember, if you haven't started your 401(k), you're missing out on free money from your employer.)
Here's a few more interesting tidbits from Fidelity's data, as reported by Bloomberg.
401(k) participants who have been in the same plan for 10 straight years have an average balance of $266,100; ten years ago, that average was only $78,800
Millennials participating in 401(k) plans are heavily invested in target-date funds; two-thirds of millennials are completely invested in the self-adjusting funds
Fidelity's data encompasses more than 22,000 companies, with more than 15 million 401(k) and nearly 9 million IRA accounts.