We've had a bit of fun over the past few days talking about banking fees — how technology is cutting down on overdraft fees, and made-up (but plausible) "underdraft" fees.
There's plenty of bank fees you should never have to pay, but as banks continue to find new ways to charge fees — you may have to jump through hoops to avoid them (if you won't pick up and move your money to a better bank).
So what would you do to avoid any banking fees you would otherwise have?
A recent BankChoice Monitor survey asked "active bank shoppers" — people who are actively looking for a new bank — what they would do to avoid a monthly service fee on their bank account.
The results are pretty interesting. Via The Financial Brand: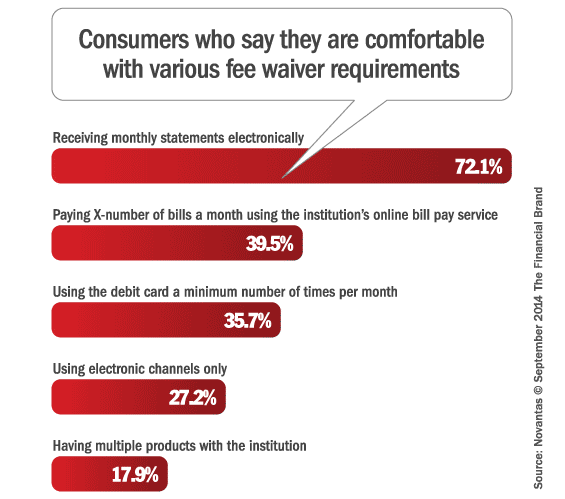 The big takeaway: the only thing more than half of those surveyed (and nearly three-quarters in total) are comfortable doing is receiving online statements instead of paper statements.
This isn't a shocker — there's so little downside to this. I've been telling you to go paperless since 2009, and most people are comfortable doing it. Older folks are less comfortable doing this, says Novantas, but still 66% of those surveyed over age 50 are fine with electronic statements only.
The other options all tend to lock you into the bank — using their online bill pay service or debit card a minimum number of times or having multiple products — and in today's day and age, everybody has multiple accounts with multiple providers.
(It's funny – I would have expected to see set up direct deposit as an option to avoid fees, since I know that's a popular fee-waiver with some banks.)
Personally, I'd only sign on for e-statements or direct deposit in order to avoid monthly fees. If those options weren't available, I'd take my business some place else.
What would you agree to do to get monthly fees waived on your account?